Support for independence has risen to an unprecedented 58% of Scots, according to a new poll.
The Ipsos MORI poll for STV News found just 42% back staying in the union when undecided voters are stripped out, with 58% in favour of a breakaway.
Including undecideds, 55% of people would vote Yes if there was an independence referendum tomorrow, 39% would vote No and 6% said they didn't know.
It's the biggest lead in a poll ever recorded for the pro-independence side.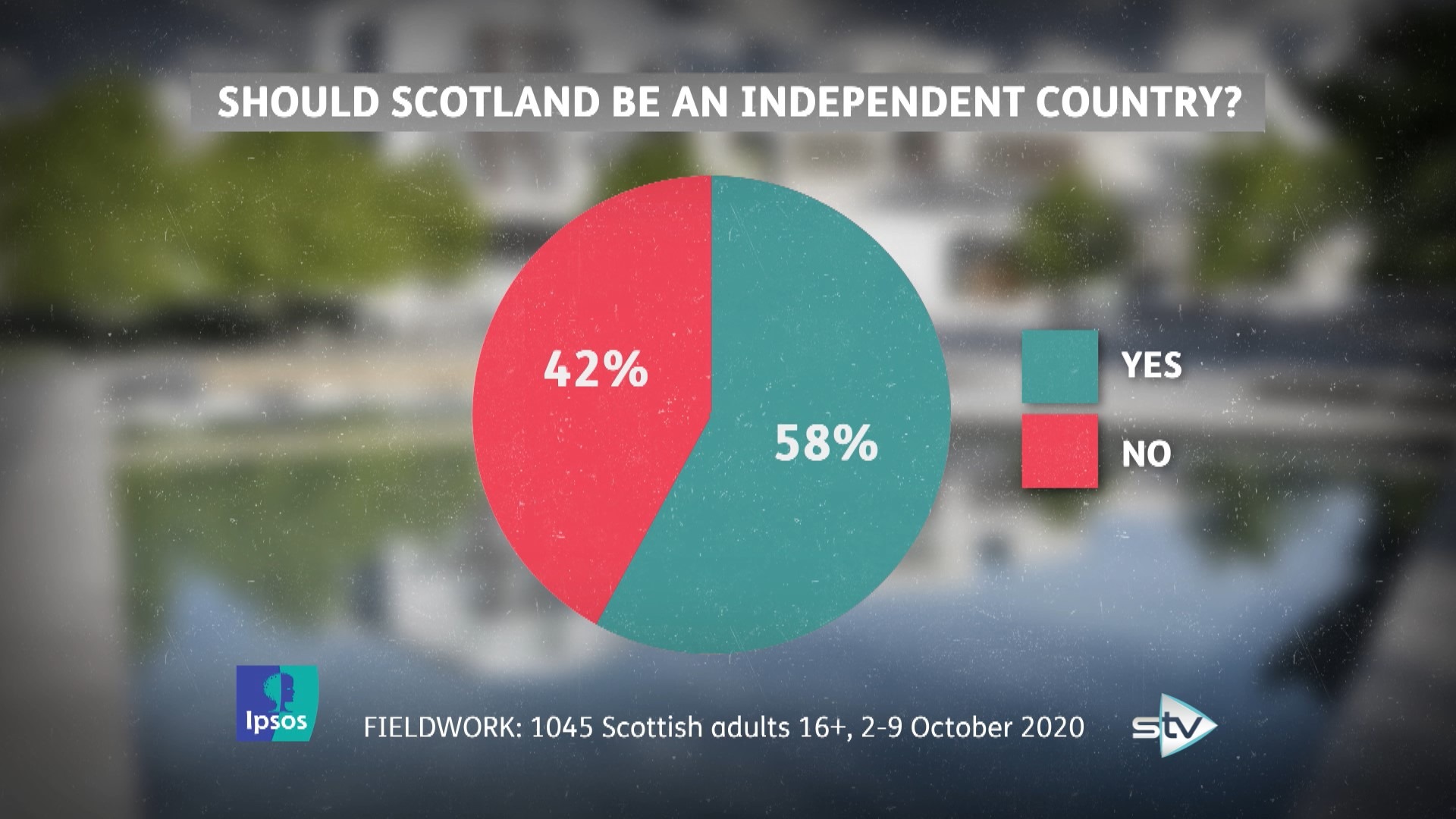 The STV/Ipsos MORI survey also suggests the SNP is on course for a Holyrood majority in next year's Scottish Parliament election, with 58% of likely voters planning to back the party in the constituency vote.
And should the SNP win a majority of seats next May, nearly two-thirds of Scots (64%) say the UK Government should permit a second independence referendum within the next five years.
Meanwhile, people overwhelmingly back Nicola Sturgeon as First Minister, with 72% saying they are satisfied with the job she is doing compared to 24% dissatisfied, giving her a net approval rating of +49.
The poll was conducted by Ipsos MORI between October 2 and October 9 and spoke by telephone to 1045 Scots.
The First Minister is the only party leader besides Sir Keir Starmer to enjoy net approval among Scots, with 44% satisfied with the job the new Labour leader is doing compared to 27% dissatisfied and 29% saying don't know, giving him net approval of +16.
It's in stark contract to the Prime Minister's polling in Scotland, with Boris Johnson heavily into minus territory.
More than three quarters of Scots (76%) are dissatisfied with the job he is doing, compared to less than a fifth (19%) who are happy with him, giving the PM an approval score of -58.
The poll's findings on the constitutional question are the latest to show majority support for independence, with the Yes side consistently leading in the polls for several months.
It also echoes recent surveys in giving Nicola Sturgeon's party a commanding lead on headline voting intention in the Holyrood 2021 election.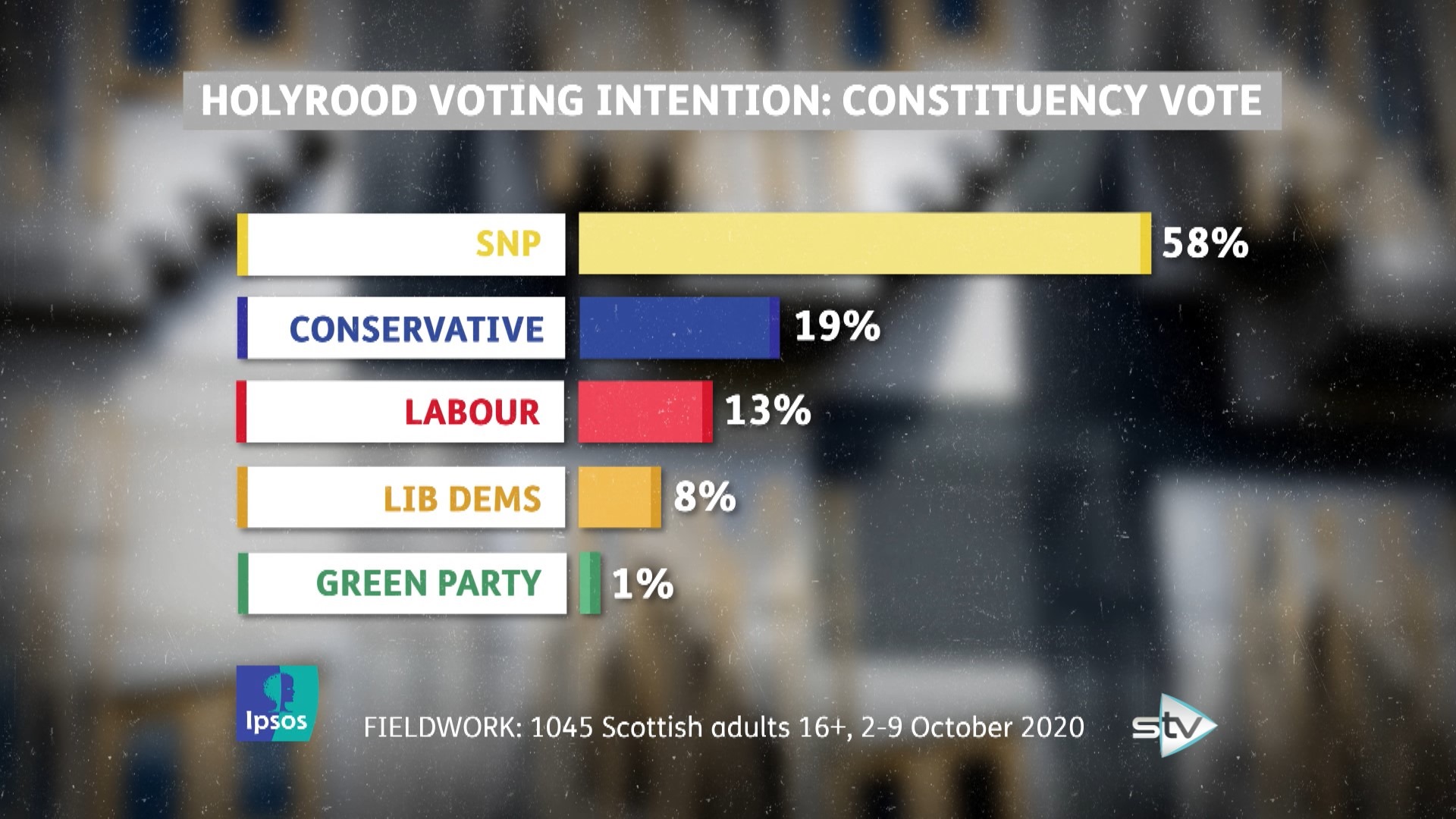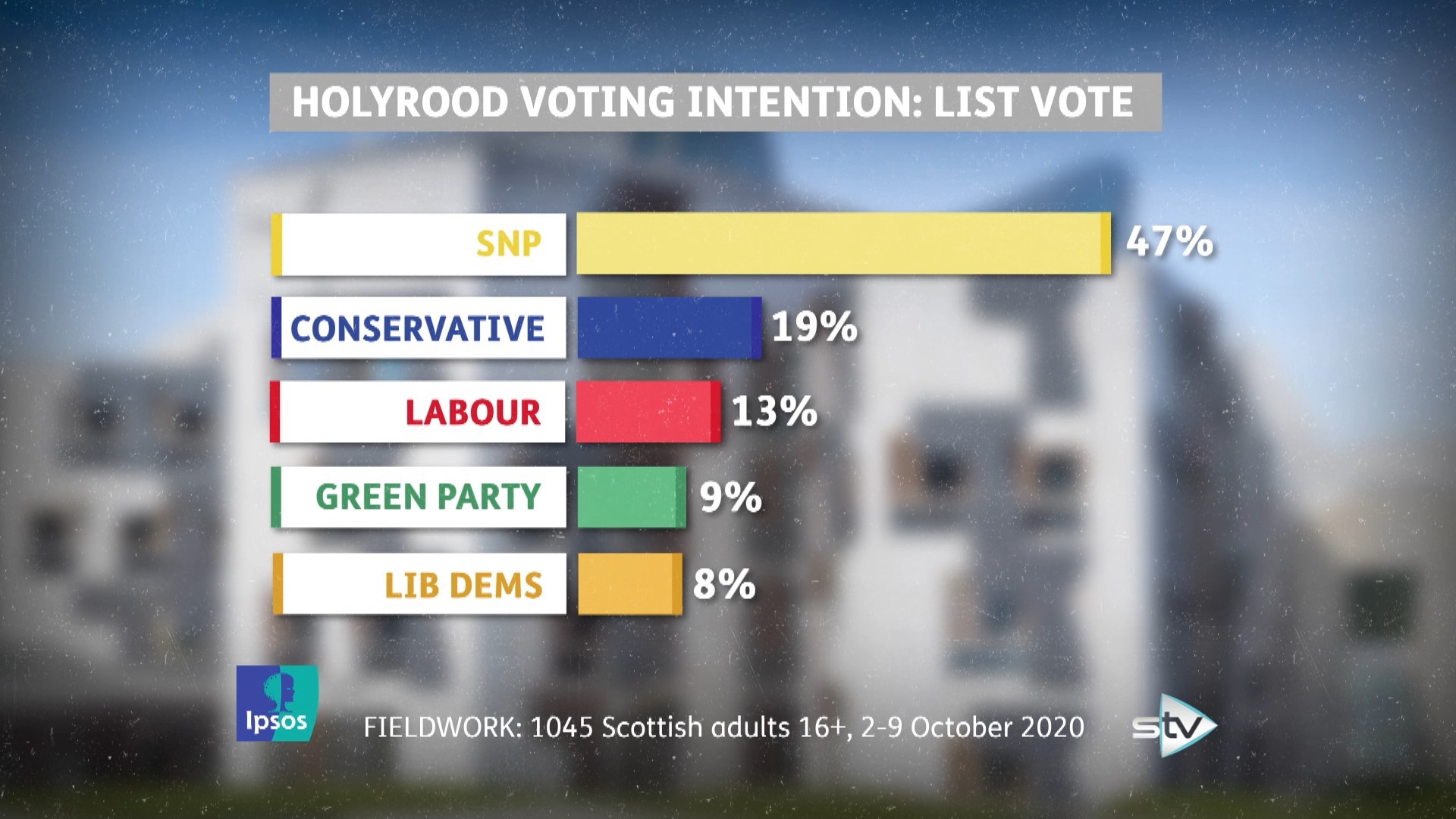 In the constituency vote, the SNP enjoys nearly a 40-point lead over its nearest rival, the Scottish Conservative party, on 58% compared to the Tories' 19%, with Scottish Labour on just 13% and the Scottish Lib Dems polling at 8%.
The nationalists' lead in the regional list vote is only slightly less emphatic, with 47% preparing to give the SNP their second vote compared to 19% for the Conservatives, 13% for Labour and 9% for the Greens, slightly ahead of the Liberal Democrats on 8%.
According to the website Election Polling's seat calculator, this result next May would see the SNP win 73 seats, a gain of ten, and four more than in the historic majority the party won under Alex Salmond in 2011, which paved the way for the first independence referendum.
The Scottish Conservatives, meanwhile, would remain the official opposition but be reduced by nine to 22 seats and Labour would fall to a historic low of 15 seats, down from 24 currently.
The Greens and Lib Dems would both make gains, up to ten seats from six and nine seats from five respectively.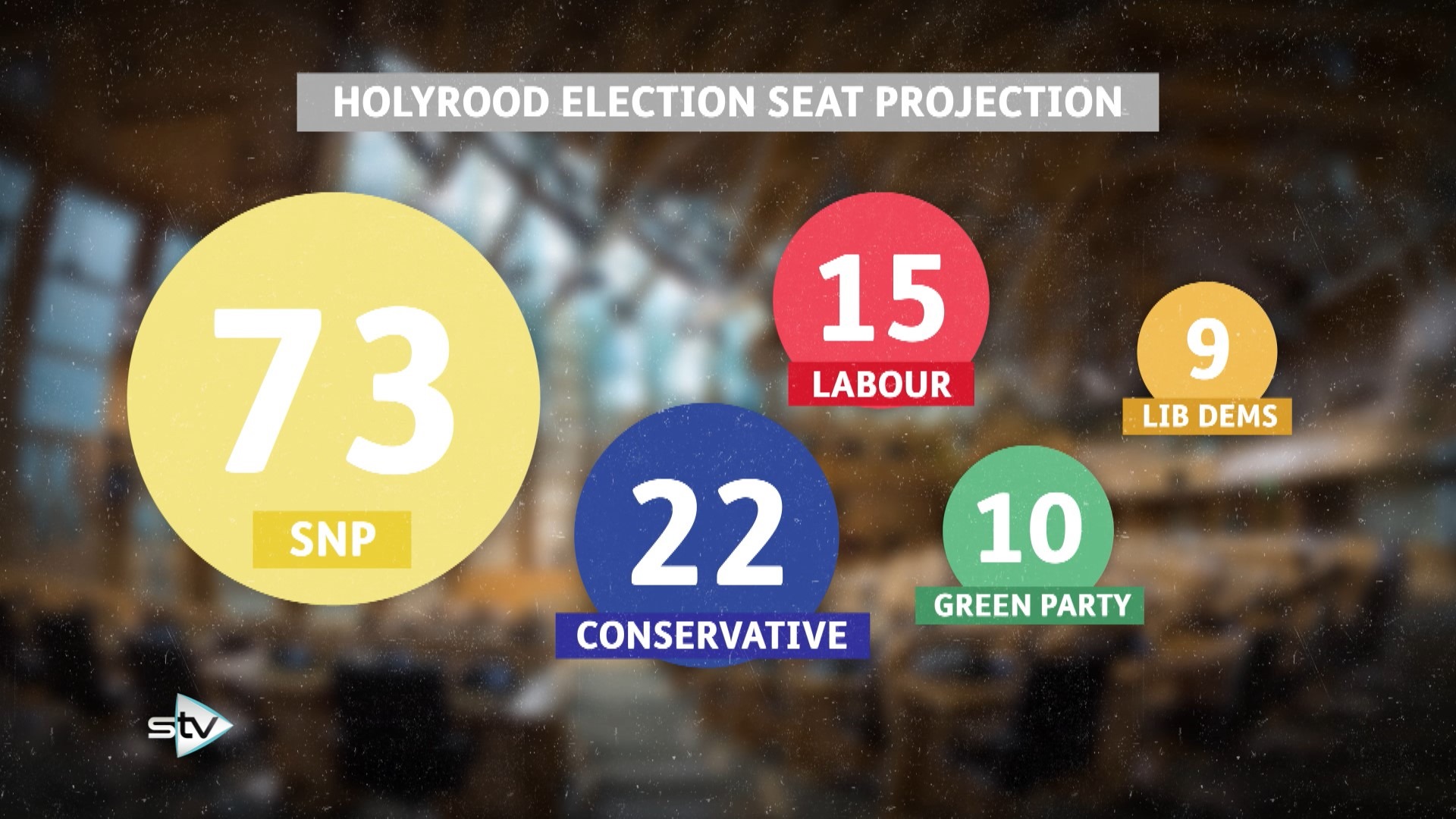 Emily Gray, managing director of Ipsos MORI Scotland, said: "Our latest poll will put a spring in the step of nationalists but makes grim reading for unionists.
"The Scottish public have shifted even further towards supporting an independent Scotland, with record numbers now saying they would vote Yes.
"Of course we are still a long way out from next May's Holyrood elections, but SNP support currently looks very strong, buoyed by Nicola Sturgeon's high satisfaction ratings among Scottish voters.
"Our poll suggests that there will be significant public pressure for the UK Government to transfer powers to the Scottish Parliament to hold a second independence referendum if the SNP win a majority at next year's Holyrood elections."
The First Minister has vowed to use a victory next year to reinforce what she sees as the SNP's mandate to hold indyref2, although the Prime Minister has repeatedly said he will not sanction such a vote.
The STV/Ipsos MORI poll found a majority of people in Scotland (51%) feel Johnson "definitely should" grant a new independence vote if the SNP win a majority of seats in May 2021 – the figure rises to 64% when people who believe the PM "probably should" allow a referendum are included.
Meanwhile, 34% said the UK Government should now permit a second independence plebiscite to take place even if the SNP gain a majority, with 27% of those saying it "definitely should not" and 7% saying it "probably should not".
A total of 2% said they didn't know.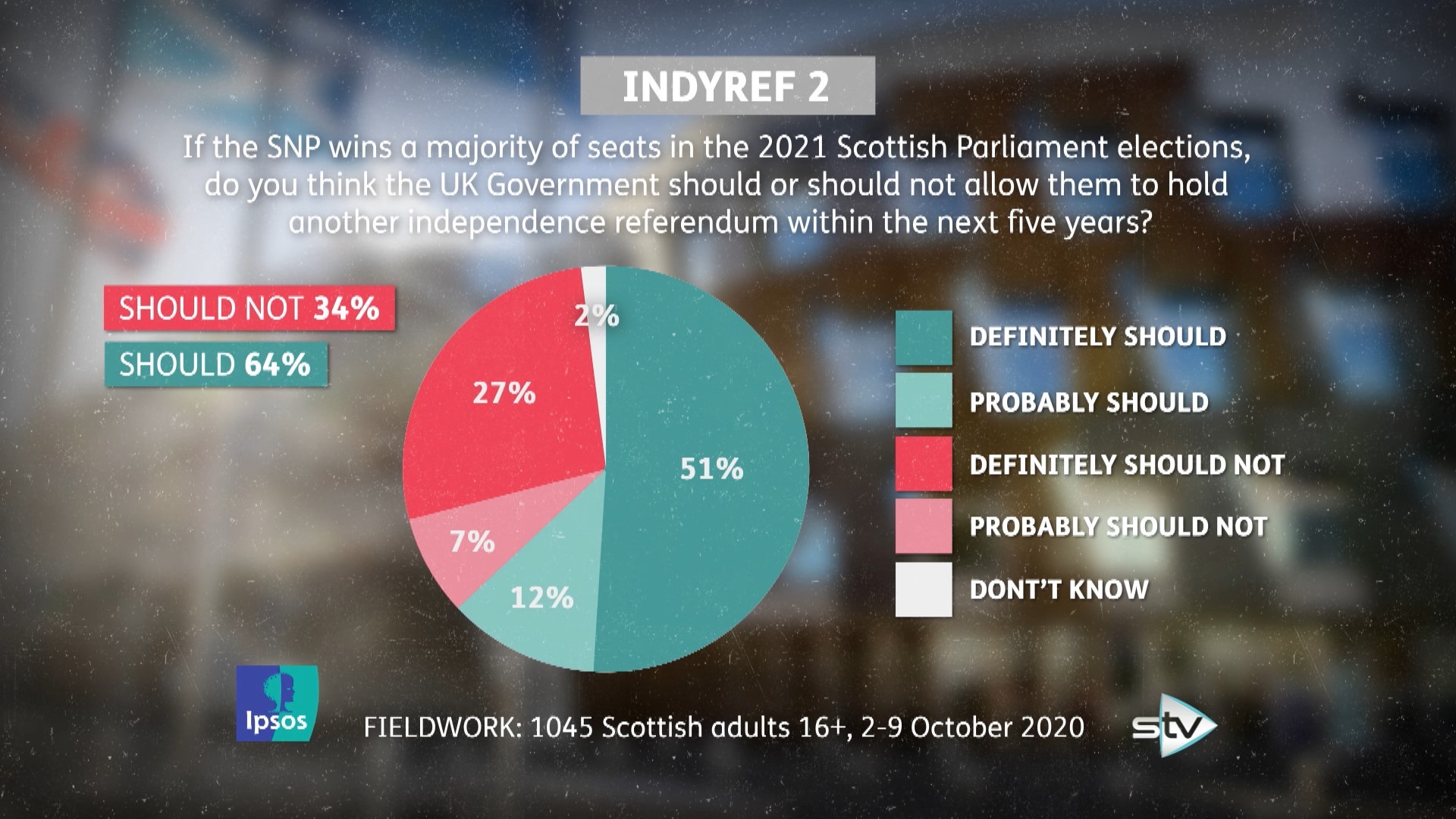 Analysis: It's no wonder politics has shifted
by STV's political editor Colin Mackay
We've all had to make many changes because of coronavirus – we've had to change the way we work, the way we meet family and friends, we wear masks and wash our hands more than ever.
It's changed the way we live and it's even changed the way people die, with Covid claiming more than 4000 lives in Scotland and more than a million across the world.
So is it any surprise that the Scotland's politics has shifted during the pandemic? The latest Ipsos Mori poll for STV gives an indication the shifting views of voters.
Last November, just before the Conservatives won a massive majority in the general election on the back of Boris Johnson's pledge to "Get Brexit Done", the polling company found support for independence and for the union neck and neck at 48% each with 4% undecided.
Now it finds support for independence at a record high – in response to the 2014 referendum question "Should Scotland be an independent country?" 55% said Yes, 39% said No and 6% were undecided.
That's quite a shift in less than a year; but it's a year which has seen Boris Johnson pilloried and Nicola Sturgeon praised for their handling of the Covid crisis. We've seen more of our political leaders than ever before, more up close and personal, not on seemingly abstract issues but on how they deal with life and death matters affecting our everyday lives.
This poll puts Nicola Sturgeon on a +49% satisfaction rating and Boris Johnson on -57. That will be largely based on people's perception of their handling of the crisis, but it affects their views on other things too.
Emily Gray of Ipsos Mori says the change in support on the constitutional question comes among women removing the gender gap in support for independence; middle aged voters have moved too, leaving the over-65s as the only age group where a majority remain pro-union.
I'm not putting all the changes down to the pandemic, and the public's view of the competence or incompetence of their political leaders.
The poll was actually carried out just after the Margaret Ferrier row broke and people will have formed their views on the back of Brexit, education and many other issues.
There is still more than six months to go before the Scottish Parliament election. Some of this winter might seem darker with uncomfortable social restrictions and rising unemployment, alongside increasing covid cases and deaths.
Next year's Holyrood election might be like no other, but a lot can change between this poll and the vote.
"We've seen more of our political leaders than ever before, more up close and personal, not on seemingly abstract issues but on how they deal with life and death matters affecting our everyday lives."

STV political editor Colin Mackay
New Scottish Tory leader Douglas Ross has made clear his intention to try to prevent an SNP majority in May.
He is only around a month into the job, and today's STV/Ipsos MORI poll suggests he remains an unknown quantity for many voters so far, with 40% saying "don't know" when asked if he is doing a good job.
Just 22% say they are satisfied with the job Ross is doing, while 39% are dissatisfied, giving him a -17 approval rating.
Scottish Labour leader Richard Leonard, in post for nearly three years, and Willie Rennie, who has been Scottish Lib Dem leader for nine years, also scored high in the "don't know" category on job satisfaction.
Leonard has a net approval of -25 while Rennie is on -1.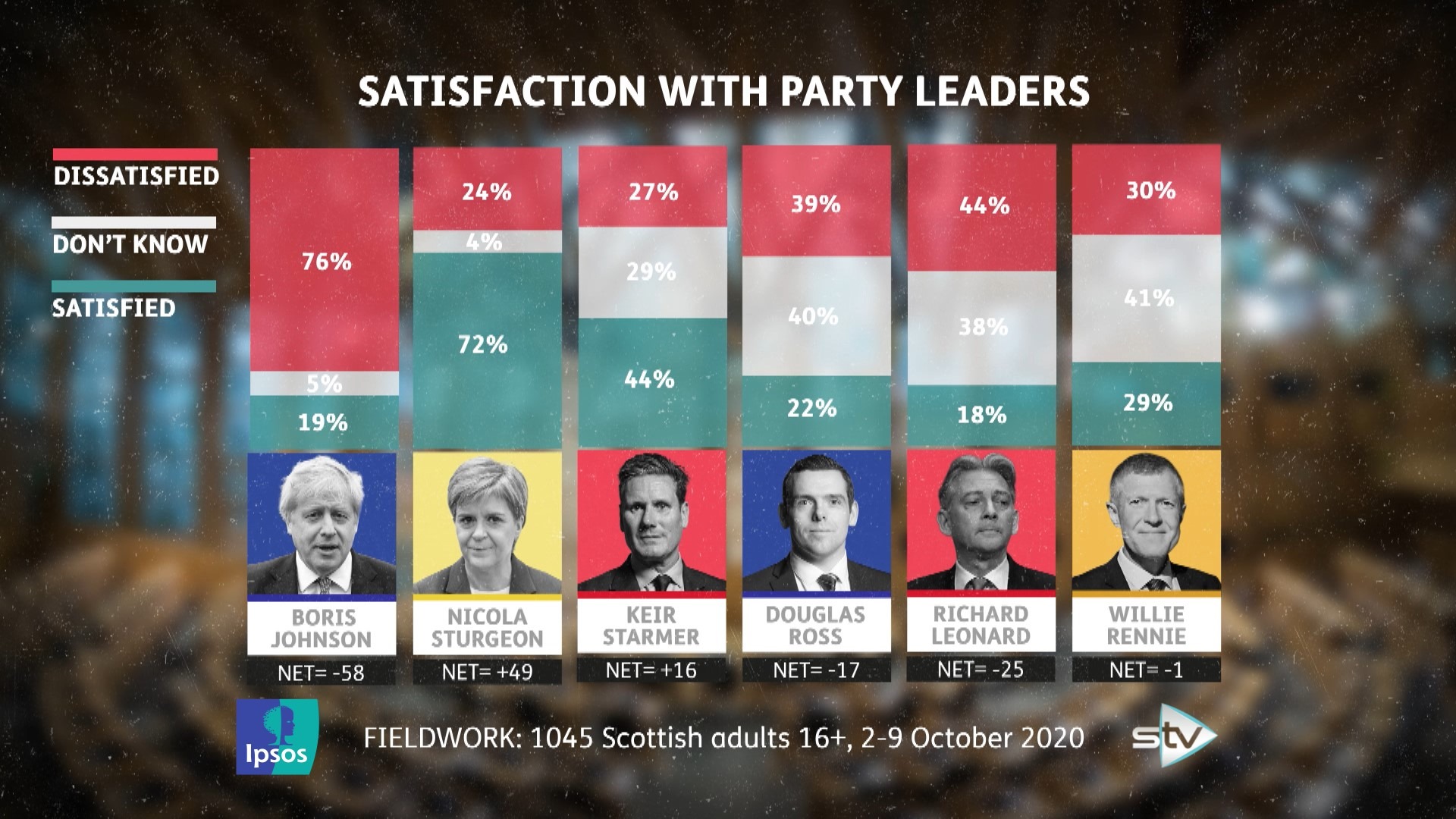 Those polled by Ipsos MORI were also asked about the strengths and weaknesses of arguments in favour of and against independence.
Nearly two-thirds (64%) said they found the argument for independence that "people in Scotland want to take the country in a very different political direction to England" as either very convincing (38%) or fairly convincing (17%).
And 46% of people found very convincing the argument that "Westminster governments cannot be trusted to act in Scotland's interests" while 17% found it fairly convincing, giving it a total of 63%.
Another 57% thought the point that "the UK is leaving the European Union even though Scotland voted to Remain" was convincing, and 52% were persuaded that "in the long term Scotland's economy will be stronger outside the UK than within it" – with only 27% reporting being very convinced by that case.
On the pro-union side, 60% found the argument that "in spite of current challenges, the different countries of the UK still have more in common than divides us" convincing, with a 29/31 split between very and fairly convincing.
Some 35% of Scots put "becoming an independent country would be a major risk for Scotland's economy and jobs" as a very convincing argument against leaving the UK, while a further 20% said it was fairly convincing, adding up to 55% of those polled.
Only minorities found the arguments that "Scotland gets the best of both worlds from having its own devolved parliament and also being part of the UK" and thar "leaving the UK would leave Scotland isolated and weaker on the international stage" to be persuasive.
A quarter of Scots (25%) described the "best of both worlds" argument as very convincing and a further 24% said it was fairly convincing (49% in total).
A total of 26% of those surveyed were very convinced by the argument independence would isolate and weaken Scotland internationally, and just 17% were fairly convinced by it.
STV News is now on WhatsApp
Get all the latest news from around the country
Follow STV News
Follow STV News on WhatsApp
Scan the QR code on your mobile device for all the latest news from around the country